Meet the NGFP fellows
Our fellows are the winners and special awardees from our 2018, 2019, 2020 and 2021 awards. They are a diverse and global group of young futures thinkers. Who are shaping the future of their communities and the field. They are just some of the people in our sensing-network of future-alert activists.
If you'd like to get in touch with the network of any individuals please get in touch
Joseph Jaworski Main award
Maria Razquin, Paula Jimeno, Ane Eguiazabal and Olatz Ibarretxe
from The Future Game
Winner, 2021
Spain
Maria, Paula, Ane and Olatz win the Main Award for their ongoing work at The Future Game, a future forecasting and social innovation platform that lives in Discord and Twitch. Inspired by the UN's SDGs, the platform helps young people discover their own power to imagine alternative futures and activate impactful initiatives collectively through a playful learning experience and impact entertainment. They hope to unleash youth potential with the prize, build digital and physical connections, and create meaningful learning content.
Raya Bidshahri
Winner, 2020
Iran
Raya Bidshahri, from Iran, lives and works in the UAE. Raya is an entrepreneur, author, futurist and keynote speaker. Her winning project aims to create alternative pathways for schooling and help people tackle and prepare for future challenges. Support first full-time education module focused on transcendence and informed by foresight. Build future fluencies for those in the Middle East. Raya will receive USD 15,000 in funding to develop her foresight work, and will attend SOIF's flagship annual foresight retreat, as well as receiving other support to help her develop her foresight practice.
Prateeksha Singh
Winner, 2019
India
Prateeksha is a multidisciplinary designer based in Canada and India. Her project collaboratively explores how applying a living system lens to a design-futures and arts-based practice can provide additional tools and perspectives for working with complex yet adaptive challenges. It seeks to take her inclusive futures framework called Lotusand to create an online interactive resource for all practitioners.
Pupul Bisht
Winner, 2018
India
Decolonizing Futures: Exploring Storytelling as a Tool for Inclusion in Foresight. A novel, non-Western approach to foresight inspired by folk-storytelling tradition, Kaavad, from Rajasthan, India, this tool is the first and only Foresight method directly derived from a non-western practice/tradition. Pupul will be broadening the approach to non-native speakers through translation of her approach, and workshops with multilingual communities.
Walkabout Prizes
Koen Vegter
Winner, 2021
Netherlands
Koen is a foresight practitioner with an academic background in business. His project aims to help the world accelerate towards a more positive future by supporting people and organisations in spotting emerging change and justifying action-taking. He plans to train people in setting up continuous future-scanning and anticipation practices, but also develop a platform that helps people implement Foresight in their organization.
Fisayo Oyewale
Winner, 2021
Nigeria
Fisayo works to identify the gaps and opportunities the agro-sector presents to different actors, with a special interest in rural communities. Her project, Farmers futures program (FFP) seeks to give farmers the agency over their future, by co-creating solutions around emerging issues, offering training on financially sustainable agro-enterprise while also opening up younger people to local possibilities.
Kushal Sohal
Winner, 2021
United Kingdom
Kushal's focus has been on global citizenship and the potential to liberate ourselves through vulnerability. His project is to run a pilot Futures Literacy Laboratory with young people that facilitate conversations on the futures of masculinity. He plans to publish a research paper and develop a series of multimedia resources to spark public curiosity and social change.
Finn Strivens
Winner, 2020
United Kingdom
Finn is a multidisciplinary designer and futurist. He is a recent graduate of Global Innovation Design at the UK's Imperial College and the Royal College of Art. Finn's winning project focuses on the use of participatory foresight methods to help young people and non-scientists influence their future and influence scientific research including climate science.
Namatai Kwekweza
Winner, 2020
Zimbabwe
Namatai is a youth, peace, democracy and human rights activist. Namatai's winning project aims to drive youth friendly constitutional and governance reforms in Zimbabwe and disrupt ageist normative frameworks, in the process helping African youth to shape their future and fulfil their generational mandate.
Our fellows
Adeiye Oluwaseun-sobo
Africa 2019
Nigeria
Pilot of Prototype testing the Futures Literacy Labs in Nigeria
Aileen Moeck
Education (joint award) Award 2018
Germany
Future-maker: Bringing futures to schools to help kids to deal with complexity, uncertainty and accelleration and to become an entrepreneur of their own future – to build visions and shape their future. Aileen seeks to scale and bring their work across Germany.
Alanna Markle
National / Local Policy Award 2019
United States
Pilot and development of a simple framework to distil futures analysis into key policy messages and recommendations for decision-makers.
Alejandro Juan Manuel Repetto, Jimena Califa, Enrique Martín Cortés Funes at Extendidos
South America Award 2020
Argentina
For their work to connect and empower foresight practitioners across Latin America with a focus on community, public sector and diffusion of practice.
Aline Roldan
South America Award 2018
Brazil
A 7-year effort to understand what a community-led foresight means in practice and in theory; what does it mean to build the individual and organizational capacity to think systematically about and imagine the future in the context of marginalized communities.
Amala Mhaiskar and Srishti Roshan
from Sustainable Food Futures in India (SFFI)
Team Award 2021
India
Amala and Srishti created the speculative recipe book on Sustainable Food Futures in India. Their proposal builds on this work to create an online platform to engage the community and to translate the recipe book into exhibits and workshops. They hope to create a locally driven global food future that combines indigenous food traditions with new food technology.
Ana Tiquia
Oceania Award 2019
Australia
All Tomorrow's Futures: connecting artistic and creative practice with foresight. A project series starting with futures of energy in Australia.
Anna Titova
Education Award 2021
Russia
Information coming soon...
Bunmi Ajilore
Africa and Main Award runner up 2018
Nigeria
Development of a futures lab to bring participatory foresight approaches to young professionals across Africa and support them to shape their future.
Carin Ism
International Policy Award 2019
Sweden
To support the Future Governance Agency for a deeper purpose of promoting an increased understanding of governance innovation.
Cathy Madge
Europe Award 2018
United Kingdom
Futures Literacy – A collaboration to enable 15-17 year olds to reach their potential. Designing innovative processes for schools to shift how futures work and careers advice works in Wales and internationally.
Charlie Warwick
Europe Award 2019
United Kingdom
Project to drive positive and future-fit community planning in a town planning context and pilot for an urban planning 'Futures Toolkit'
Cherie Minniecon
Peacebuilding Award (Funded) 2021
Australia
Cherie is a Yorta Yorta woman and a descendant of a stolen generation survivor in Australia. She explores futures processes and practices that consider the role of culture, systematic violence, conflict, survivance and trauma. Her proposal seeks to develop a participatory narrative foresight methodology and to launch a futures focused podcast that engages a broad range of people to creatively explore futures thinking, practice and visions in a way that tickles the imagination, evokes curiosity and enables action.
Christy Casey and Nour Batyne, Resilience 2032
North America Award 2020
United States
For their aim to democratize and scale futures thinking by leveraging social media theater to inspire widespread civic engagement with a focus on climate, data-driven technologies and systemic inequality.
Claire Marshall and Mel Rumble
Oceania Award 2020
Australia
For their participatory approach to encourage futures literacy, which enables the co-creation and sharing of preferred futures through the Museum of Futures, an interactive physical and online exhibition series.
Clarice Garcia
South America Award 2021
Brazil
Clarice is a researcher, designer and facilitator. Her work aims to solve the contradiction between sustainability and fashion in a way that integrate consumers' voices and cultural aspects into fashion futures initiatives. Her proposal aims to facilitate connections and dialogues between fashion activists and young futurists and to take her toolkit to countries with poor access to technology and the Internet.
Corina Angheloiu
Humanitarian Award 2018
Romania
Foresight pollinators: a multidisciplinary community of practice building the wider field of futures-led inquiry.
Daniel Olarte
Humanitarian Award 2018
United States
Building on experience driving a collaborative, human-centered approach to tackling future-shock in American healthcare, Daniel aims to explore how Colombians feel about a peaceful future... to explore future memorials and devleop a collective memory toolkit.
Deepshika Dash and Sugandh Malhotra
Group Award Award 2019
India
A project to support designers to design future possibilities in Mobility for congested metropolitan cities.
Dexter Docherty and Kushal Sohal
Culture and Identity Award 2021
Canada, United Kingdom
Dexter and Kushal's project explores toxic masculinity and what it might mean to be a feminist man in the future, applying feminist theory to policy development. They plan to deliver a Futures Literacy Lab focused on the "Futures of Masculinity" exploring their broader policy and far-reaching relevance for intergenerational issues.
Elias Mouawad
MENA Award (Funded) 2021
Lebanon
Elias has been exploring the use of alternate reality as a tool to help decision-makers engage with uncertain and unexpected events. He led the design of a simulation for Beirut that explore future risks, challenges and gaps in infrastructure, governance and policy. His proposal seeks to explore the futures of identity and the social contract in fragile contexts and what can be applied to support strategic planning and community interventions.
Elizabeth Possee Corthell
Community Award 2021
United States
Liz is a strategist, service designer, and futurist. Her project aims to establish a futures thinking lab in Mad*Pow's Centre for Health Experience Design. The lab aims to create new experiences for the community, like workshops where we focus on crafting compelling visions of an equitable future of healthcare and to use these to create change.
Elliot Brenan
Oceania Award 2018
Australia
Communication, communication, communication. Elliot aims to further develop a platform for communication in foresight, early warning and conflict analysis – to create a space for sharing, debate on trends, theory and practice in the "Slow Thinking Resource Centre".
Emily Empel
Development Award 2018
Canada
Having pioneered the Future According to Women at MISC Magazine, Emily seeks to understand representations of female genitalia in popular culture to speculate on the future of those who identify as women – from iconography to new aspirations.
Erica Bol
Education (Joint Award) Award 2018
The Netherlands
Pilot in Netherlands to embed futures work into Primary and Secondary schools alongside teacher in training programmes. Erica is capturing and sharing best practice approaches and tools. Helping students become the entrepreneur's of their own future.
Evy Peña
Forced Labour Award (Funded) 2021
Mexico
Evy champions migrants' rights through her transnational narrative work. Through survivor-focused storytelling, leadership development, and strategic communications, she ensures that migrant women are at the forefront of advocacy around labor migration. As Communications and Development Director at Centro de los Derechos del Migrante, Evy aims to change the systems that facilitate forced labor, building worker-centered communications campaigns, notably around international trade agreements
Ioanna Sotiriou and Thomas Tsoulias
Government Policy Award 2020
Greece
For their work and ambition to establish Epoch Labs and its network as a dedicated strategic foresight institute and resource for the Mediterranean.
Irene Coletto
Europe Award 2021
Italy
Irene has been working with foresight and graphic facilitation as part of the Prot(A)ction project run by Forwardto that is building a "community of practice" of service operators that work against human trafficking in the Piemonte region of Italy. Her proposal seeks to address a lack of young voices and diversity in futures work across Italy with the aim of spreading futures literacy and a sense of agency and common purpose.
Jessica Thornton and Heather Russek
from Creative Futures
North America Award 2021
Canada
Jessica and Heather have been using participatory foresight to explore labour markets and the skills and occupations needed in Canadian cities over the next 10-15 years. They now plan to launch a national foresight club to build the capacity of Canadian municipal staff and to develop a series of futures literacy modules for municipal audiences.
Jorge Camacho, Fernanda Bonilla, Emma Herrera and Jaime González from Diagonal
Team Award 2020
Mexico
For their project will build on their work in MMexico City to explore post-pandemic futures with excluded communities and give them agency over their futures.
Juan Manuel Avalos
National/Local Policy Award 2018
Mexico
Working towards a center for prospective and strategic thinking in Latin America, that can support the region to understand take advantage of disruptive technologies and the fourth industrial revolution.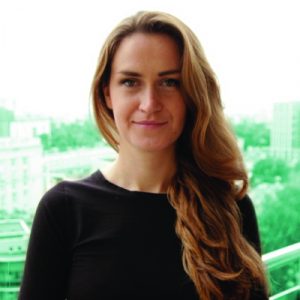 Justyna Król
Community Award 2018
Poland
Foresight for Cities. Working with cities to help them support their citizens and better prepare for cities – through participation and novel methods including future tables, future maps, games and prototyping. Justyna aims to develop a blueprint for cities to use foresight with impact.
Karl Satinitigan
Entrepreneur Award 2021
The Phillipines
Karl has been working to promote futures thinking among startup founders and social entrepreneurs, especially as they help transition the Philippines into a circular economy. His project aims to translate futures thinking tools so that they are truly accessible to community-based entrepreneurs and people's organizations
Krizna Gomez
Humanitarian Award 2019
Philippines
Creation of a school for young futurists (15-25 years old) to promote social justice globally and in their local contexts.
Lauren Keeler
North America Award 2019
United States
To translate futures games from analog to digital to allow their impact to scale across communities through online resources, training and tutorials.
Leah Zaidi
Environment Award 2019
Canada
A participatory approach to experiential futures to help build capacity and communicate complex emerging problems.
Lee Zhong Han
Social Innovation Award 2021
Singapore
Lee has led social enterprises that reduced food wastage and provided training for youth involvement in social and environmental issues. Building on his experiences with the #WeTellStories Community, a non-profit project that uses storytelling to advocate for various causes, Lee hopes to build the capability of civil society to use foresight methods.
Ludwig Bengtsson
Environment Award (Funded) 2021
Sweden
Ludwig works on climate politics. He started with activism—at the UNCOPs as a youth delegate and through CSOs. Later, he joined a group of researchers at Lund University working on speculative futures and artistic practices. He's created a fictional museum of the fossil era, a travel guide to a decarbonised city and a sound walk set in an urban future. His proposal is focused on crafting a desirable future for Swedish forests.
Madhumitha Ardhanari
Environment Award 2020
Singapore
For her project to tackle the unsustainable use of sand for land reclamation in Singapore, and its environmental impact beyond the country.
Maggie Greyson
North America Award 2018
Canada
A personal experiential futures technique – Making the futures present with inspiration from theatre and design to drive creativity and challenge assumptions.
Maha Hosain Aziz
Education Award 2019
Pakistan
Visual stories on global risks: spinoff of her award-winning 2016 political comic book The Global Kid to enlighten both youth and adults on today's global risks, how they may evolve in the future and how we may tackle them.
Mansi Parikh
Development Award 2020
India
For her work to transform the Future Tense Community in India into a Collective experimenting with applied, indigenous, culturally contextual and inclusive futures.
Marcela Capaja
Technology and Security Award (Funded) 2021
Poland
Marcela has been working as a champion for futures thinking and youth leadership in security through her work, including a participatory futures game, Young Leaders Programme, and INTERPOL Global Horizon Scan. Her project focuses on launching a Youth Security Futures Forum, a platform that helps youth voices to shape the future global security agenda.
Marguerite Coetzee
Humanitarian Award 2021
South Africa
Marguerite has a rich experience in visual storytelling. Her project seeks to address the alienation, disorientation, and displacement of people on the African continent and of African descent. She hopes to build a community of empowered agents of change – to revolutionise and democratise the imaginings, lived realities, and origins of African futures.
Markus Becker
Corporate Award 2020
South Africa
For his project which will help companies in South Africa address systemic issues using foresight, shifting corporate culture and creating better futures.
Mathew Markman
International Policy Award 2020
United States
For his work on academic freedom and ambition to use foresight to protect our freedom of thought from nefarious actors.
Naidel Ardilla
Community Award 2019
Mexico
Addressing internal barriers to self-valuation, and quality of decision-making in the lives and futures of Mexican women.
Nicole Kahn Parreño
Asia Award 2021
The Philippines
Nicole has been championing futures work in the Philippines including through the Philippine Futures Thinking Society (PhilFutures), the Center for Engaged Foresight (CEF), and the Association of Professional Futurists (APF). Her project aims to strengthen indigenous and community foresight by developing decolonized Filipino futures through Hiraya Foresight, working with rural communities to bring their voices into the conversation
Nisreen Lahham
Middle East Award 2019
Jordan
Solutions for water-energy-food security Nexus in MENA and SSA, using participative foresight.
Olga Remneva, Anna Peplova, Irina Danilicheva, and Anastasia Evgrafova from Future Culture Lab
from Future Culture Lab
Humanitarian Award 2020
Russia
For their work combining agency, motivation challenges, foresight through art perspectives and creative challenges and ambition to scale their work.
Oliver Bream McIntosh
Education Award 2020
United Kingdom
For his ambition to expand the impact of his work taking futures literacy and his participatory futures methods to a broader group of change-makers in the global student community.
Otto Tähkäpää
Europe Award 2020
Finland
For his ambition to promote and scale futures literacy and futures education by developing a series of picture books for children and educators, building on the narratives and stories co-created with children through his Tulevaisuuskoulu (Futures School) initiative
Plearn Janvatanavit, Paricha Duangtaweesub and Kanravee Kittayarak
from TIJ Justice Innovation Unit
Policy (government) Award 2021
Thailand
Kanravee, Paricha and Plearn have a dream of empowering their community of social justice changemakers in Thailand. They have been using foresight to explore justice interventions that can support vulnerable groups through hosting participatory workshops for multi sector leaders. As the first justice innovation group that uses a futures thinking approach in Thailand, they now seek to build on this work by creating a strong community of practitioners that makes for a more participatory justice future for all.
Randy Lubin
Innovative Methods Award 2021
United States
Randy is a game designer and entrepreneur working to create positive futures through games and technology. Through his studio, Leveraged Play, he has designed and run foresight games that explore the future of artificial intelligence, elections, web monetization, and much more. He also runs Story Synth, an open-source game design platform, which he plans to expand to empower foresight practitioners to create, run, and share participatory games at scale.
Reinhold Mangundu
Development Award 2021
Namibia
Reinhold has been participating in and leading participatory games to explore how Namibia can meet the challenge of the Sustainable Development Goals, working with 500 young people in Namibia. He is aiming to build on this work through workshops, and bringing these approaches to more students and learners through a simplified and translated manual.
Rodrigo Mendes Leal de Souza
Latin America Award 2019
Brazil
Participative scenarios to address Brazilian development challenges.
Rodrigo Mota
Policy (International) Award 2021
Brazil
Rodrigo co-created the WFP Youth Network – a global, diverse, self-organized platform for youth advocacy and humanitarian action at the United Nations World Food Programme. His project focuses on co-creating scenarios and story-like narratives for the future of humanitarian action. His work with different organizations and countries helps to "connect the dots" in understanding how to make a difference in the world through action and purpose.
Rohan Patankar and Aditya Prakash from Quicksand
from Quicksand
Asia Award (Funded) 2020
India
For their research on capacity building for on-ground humanitarian workers and communities to solve their own problems through the creation of a Humanitarian Futures Lab.
Samantha Matters
Community, Canada Award 2020
Canada
For her project which aims to develop an online course that draws on the concept of ancestral accountability to catalyze Canadian foresight practitioners to become champions of reconciliation.
Samuel Egbedeyi
Africa Award 2021
Nigeria
Over the years, Samuel has learned the soft and hard skills required to drive a lasting change in Africa. His project is focused on adapting a modern rainwater recovery mechanism to help tackle the problem of potable water scarcity in Nigeria. His goal is to increase the percentage of Nigerians who have access to safe drinking water from less than 20% to over 50% by 2030.
Seble Samuel
Cities Award 2020
Canada
For the collaborative project Menged Le Sew, which tackles threats of rising air pollution, public health decline and unsafe streets through urban futures and sustainable urban design and transport planning in Ethiopia.
Shakil Ahmed
Asia Award 2019
Bangladesh
Creation of a futures space in Bangladesh to support people to explore and create their preferred futures.
Stephanie Yesmukanova
Cities Award 2019
Kazakhstan
The future identity of Kazakhstani citizens.
Tolu Oni
Africa Award (Funded) 2020
Nigeria
Her project proposes to establish an emergency health foresight platform and movement to co-develop and implement a Marshall Plan for urban health in Africa and to co-design, test and evaluate interventions in cities in Africa.
Trishia Nashtaran
Cities Award 2021
Bangladesh
Trishia is a feminist organizer and a foresight strategist working in gender-based discrimination in the workplace. Her foresight initiative, Third Space Feminism, has been exploring the potential of women-centric digital spaces in co-creating gender-inclusive and sustainable futures in a patriarchal society. Her proposal is focused on the creation of inclusive toilets in Bangladesh and working to enable others to co-design an inclusive future for themselves, their communities, and their workplaces.
Veerappan Swaminathan
Asia Award 2018
Singapore
Building on his experience building makerspaces and a Sustainable Living Lab in Singapore. Veerappan aims to build futures-based communities and create a toolkit to help people imagine and design their own futures.
Virkein Dhar
Entrepreneur Award 2020
India
For her "Futures from the Periphery" approach that uncovers the rituals, inherited knowledge and lived experiences of people in cities through intimate stories, as a means to challenge mono-cultural imaginations of the future.
Yelena Muzykina
Education Award 2021
Kazakhstan
Yelena is a lecturer and trainer, consultant working in Kazakhstan. Her project is focused on expanding futures literacy in Kazakhstan. She is working to compile a Russian manual for futures studies to address language barriers that limit uptake across society. She also hopes to develop a new course that meets the needs of civil servants and promotes futures literacy in Kazakhstan and across central Asia.
Özge Aydogan
International Policy Award 2018
United States
Founder of the Young UN Policy Lab on Frontier Issues. A crowd-sourcing platform to identify emerging issues that will impact future societies. Ozge seeks to expand the labs ideas in providing and generating out the box solutions for Agenda 2030. A future UN that is fit for the future.